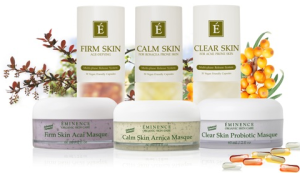 Eminence Organics Skin Care
Look at You Day and Mobile Spa is proud to be an exclusive Eminence Organic Skin Care provider. We use and recommend Eminence Organic in all of our skin care and body treatments.
Eminence Organics Skin Care has been declared favourite organic skin care line for several years running. By matching pure, environmentally conscious organics with the luxury of Hungarian beauty care, Eminence promises to enhance your well-being naturally! Enjoy the healthiest and most effective experiences available from Eminence organic skin care.
As Members of the Organic Trade Association (OTA), the association for the organic industry in North America, all Eminence products are free of Parabens, Sodium Lauryl Sulfate and other harsh Chemicals
Warm Buddies
Warm Buddy Company has been manufacturing the original warm-up plush animals since 1996. Warm Buddy Company holds a Class 1 Medical Device Establishment Licence as a result of extensive product testing and quality control. Our family of warm-up plush animals are held to the highest standards of quality and safety in the World. Every Warm Buddy is designed to provide sleep therapy and natural relief from aches, pain and stress.
Warm Buddy warm-up plush animals have won the prestigious PTPA (Parent Tested Parent Approved) Award for Excellence in Parenting Products.